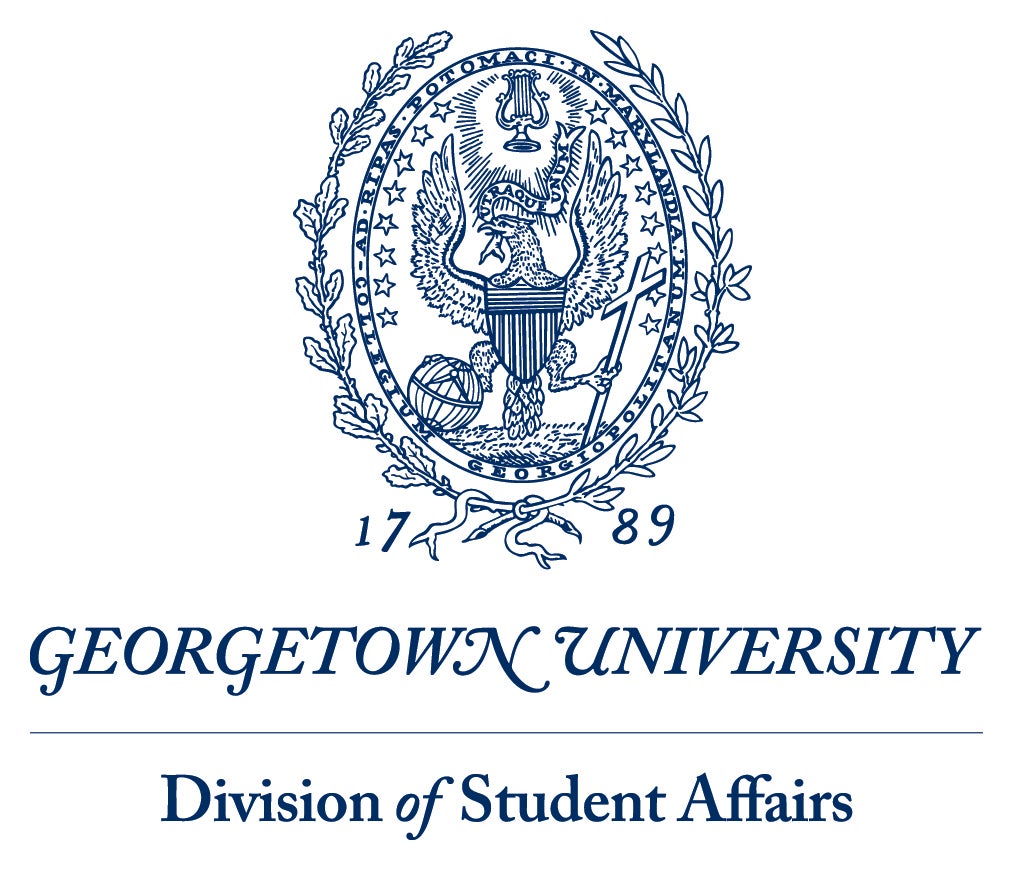 Latest University News
Read the message and reflection from President John J. DeGioia in the wake of the Israel-Hamas conflict. – October 19, 2023
Read the responses from Georgetown University and President John J. DeGioia following the Supreme Court's Affirmative Action ruling. – June 29, 2023
Visit the new page dedicated to Georgetown's response and continued commitment to the strength of a diverse Hoya community. – June 29, 2023
About Us
The Division of Student Affairs provides programs and services to support students and enrich their learning experience at Georgetown. Learning takes place in all parts of students' lives and is centered in their academic experiences. This learning is enriched by their living environments and their engagement in a wide range of co-curricular pursuits – from community service to athletics and from student government to the performing arts. An array of services is also there to support students – to assure their health and wellness, assist with their career development, and meet a variety of personal and academic needs.
Working with our faculty and staff colleagues, Student Affairs strives to create a vibrant campus community. Our staff and programs engage students in conversation, reflection, and action – rooted in Georgetown's identity as a Jesuit and Catholic, student-centered, research university. We view our students as citizens in a diverse community and work to educate them about making responsible choices. We encourage them to explore the values, beliefs, and commitments that guide their actions. Our work with students builds on the Jesuit tradition of cura personalis – care of the whole person.
---
Mission Statement
The Division of Student Affairs contributes to the establishment of a student-centered learning community that fosters educational and personal development and is dedicated to the Catholic and Jesuit tradition of care for self and others.
Student Affairs in partnership with other University efforts fulfills this mission by:
Educating students as whole persons, promoting their intellectual, moral, spiritual, and social development;
Enhancing students' learning and helping to prepare them for lives of discernment, civic engagement, and professional growth;
Teaching personal responsibility and respect for people of all faiths, cultures, and beliefs;
Promoting the health and safety of students and others in the University community.
---
Diversity, Equity, & Inclusion Statement
The Division of Student Affairs works to create an environment in which students, and the staff and faculty who work with them, can flourish. Student formation is the center of our mission, and Student Affairs works with students very directly through education, programmatic efforts, supportive services, and on-the-ground engagement. In living out these commitments, Student Affairs embraces students, staff, and faculty from all backgrounds and identities. This includes racial, ethnic, sexual and gender identities, sexual orientation, socioeconomic status, religious/spiritual identity, immigration status, indigenous heritage, disability status, military affiliation/veteran status, and age. We recognize that these groups are intersectional and that there are myriad identities and experiences in addition to these which shape our students and our colleagues. This intersectional approach calls us to be mindful of issues of power, privilege, and oppression and to pursue equity in our structures and our practice. While we have built a strong foundation, we seek to do more – we seek the Magis in our work, our awareness, and our impact.
A commitment to diversity calls us to value the different perspectives and lived experiences that students and others bring to the community by virtue of the identities they hold.
A commitment to equity calls us to ensure that every student has what they need to be successful in their pursuits and endeavors.
A commitment to inclusion calls us to restructure our environments and practices to center voices of those who have been historically underrepresented in our work and campus.
We carry out this work within the context of Georgetown's overall educational mission. In addition, we recognize the Jesuit tradition that grounds our work. In 2000, then Superior General Fr. Peter-Hans Kolvenbach, SJ delivered his famous address The Service of Faith & the Promotion of Justice in American Jesuit Higher Education. Fr. Kolvenbach offered a historic challenge for us to integrate this mission commitment into our teaching, scholarship and institutional lives as Jesuit universities. At Georgetown, this is reflected in our values of Community in Diversity and Faith that does Justice.
Goals
As a Division, we strive to:
Promote a supportive and energizing learning environment designed to help students envision their own future. We seek to optimize students' capacity to grow and flourish in a diverse and changing world, by building their skills, knowledge, and awareness. We value the lived experiences of all students and respect their inherent dignity and the value each of them adds to our community.
Create a just and inclusive community. We are profoundly shaken by the injustices happening around us. We seek to turn challenges into purpose, through a set of equity and inclusion priorities, including student support, staff support, leadership training, and goal setting, employment policies and procedures, and campus enrichment. Moving forward, this objective is not only a necessity, but also a source of strength and richness in living out our mission.
Support Division colleagues as they invest in the growth of their own awareness, knowledge, and skills. We are committed to making diversity, equity, and inclusion tangible, realistic, and purposeful to our staff. We seek to develop the qualities of cultural intelligence, cultural humility, curiosity about others, and an awareness of bias in each member of our staff. We support the growth and well-being of our staff as whole people, in all aspects of their lives.
Establish the Division as a model for others across the university in its commitment to equity issues. This includes hiring, supporting, educating, and retaining a diverse and highly skilled workforce, and strengthening a productive and inclusive environment in each department. We strive to establish the Division as a model for students as well as staff.