Restorative Georgetown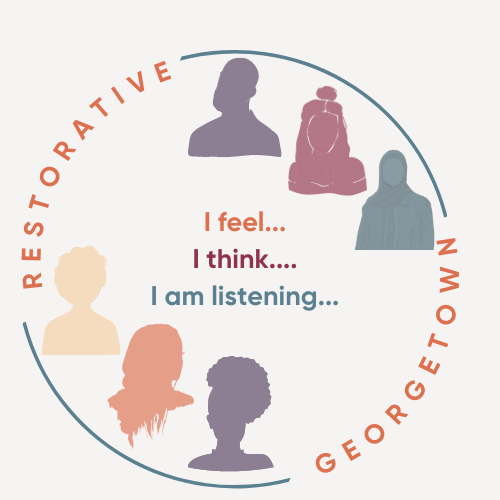 Mission: To advance restorative justice and community healing, Restorative Georgetown promotes and integrates community-based connection and learning, circle conversations, and interpersonal growth. Restorative Georgetown works with students to develop tools to address harm and needs. We preserve our common humanity, create opportunities for accountability, and address the underlying root causes of harm.
Restorative justice: Restorative justice is an approach to building relationships, providing community care, and addressing harm. It is a need-based approach focused on individuals, relationships, and communities. It aims to involve all people in a collaborative process that promotes social connections, understanding and when needed accountability and healing. Rather than focusing solely on punishment, restorative justice seeks to address the underlying causes of harm, restore relationships, and prevent future harm. We acknowledge and honor that Restorative Justice has its roots in indigenous ways of living in the right relationship with one another, including traditions of storytelling in circle and re-integration of those who have harmed other members of the community.
Current Involvement Opportunities:
Academic Year 2023-2024
Task force: The task force serves to follow tangible steps, create action plans, and discover how best to implement RJ at Georgetown.
Information sessions: Work with on-campus restorative justice professionals to gain a better understanding of what restorative justice entails. Engage in RJ learning through activities, role-play scenarios, or didactic learning.
RJ Circle Process: While this opportunity is similarly a learning experience, its emphasis is on experiential learning. Born out of Indigenous societies, circle processes provide an opportunity for community members to come together and build relationships.
---
How can I be involved?
If you have any additional questions, please contact Brit Egan, (be200@georgetown.edu (new window)), Noa Offman (COL '25) (njo18@georgetown.edu (new window)), or Erika Cohen Derr (elc7@georgetown.edu (new window)).